Sunday 2 October
Okaukuejo (Etosha)
I got up at 6.15 to go for an early morning visit to the waterhole but this was a waste of time since there were no animals there. About 1/2 hour later they started to arrive, mainly springbok, zebra and oryx again but also guinea fowl and jackal. A blue wildebeest arrived later. Stayed here until about 8.30 when I returned to the truck for breakfast. Went back to the waterhole after breakfast and found that a group of 6 male kudu with nice curly antlers had turned up. There was also a mongoose type thing running around.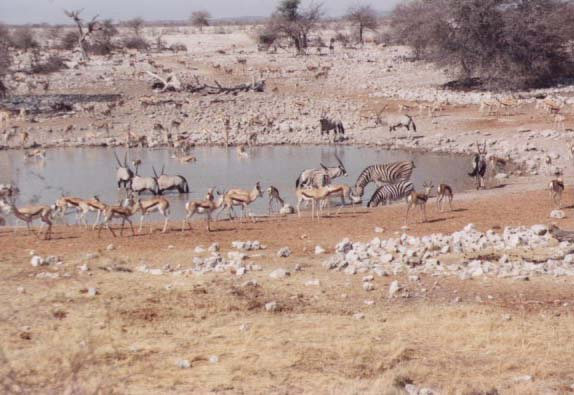 At 11.30 I moved to the swimming pool area and hung around there until lunch. After lunch returned there and lazed around. Visited the visitor centre (as one does) and saw their display of animal shit. Climbed the look out tower and could see absolutely nothing of interest. Played Pass-The-Pigs for a while and I won so that was good, before having a shower. It was then back to the waterhole where I giraffe had come to drink. Therefore I added a 'giraffe reflected in water' photo to my growing reflections collection.
Also saw a family of 5 giraffes wander by but they are very timid creatures and decided not to come to the waterhole.
Had dinner and then once more onto the viewing gallery. There were giraffe and elephant there.
Some Black Rhino came down later but they were a bit boring since they didn't have a fight even though they looked that might at one stage. There were also some jackals. I am not a very good game watcher and soon got bored and so went down the bar to get some beers in. Returned to the waterhole for a while before going to bed at 11.24 after nothing interesting had happened for 10 minutes
Monday 3 October
Okaukuejo- Halali- Namutoni (Etosha)
Up at 6.30 to see what animals were about. There were some elephants but they weren't doing very much. The guinea fowl came along en-masse having congregated just outside the waterhole. The zebra/oryx/kudu seemed too frightened to come into the waterhole while the elephant was still there and so hung around the edges waiting. I went off for breakfast and came back to find the elephant still there and the other animals still waiting. Got a chance to take a close up photo of an elephant's penis which was very large and mottled black and pink. Unfortunately I didn't have my camera with me so I missed the opportunity.
Set off at 9.30 for a day's game drive between the rest camps in Etosha. Went to most of the waterholes in this part of the park (Gemsbokvlei, Oliphantsbad, Aus etc) and saw a lot of zebra, springbok, oryx and ostrich. Also had first sightings of black faced impala (an Etosha speciality) and Red Hartebeest (a bit of a rarity). Also went to look at the main Etosha pan, a vast dried up lake where we saw what might have been baby oryx although their colour was completely different to the adults.
Stopped for lunch at Halali, another camp, where we had oryx steak and chips. I visited the waterhole here but despite a very nice setting at the bottom of a hill it was devoid of animals. Spent some time at the camp by/in the swimming pool which was slightly warmer than yesterday's and contained nowhere near as many chemicals. I found a splendid poster of 'Namibian National Symbols' but was unable to buy it. At 3.00 we left for some more game driving. The highlight of the afternoon was watching an elephant push over a tree. They really are destructive creatures. Also saw a Kori bustard and a hyena.
Arrived at Namutoni, an old whitewashed fort, at 6.00.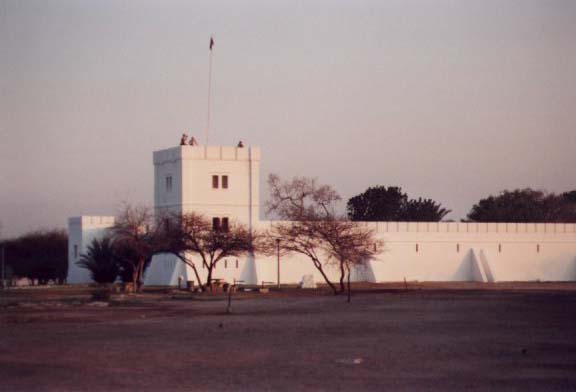 Put the tent up and then went to the waterhole where I took a superb photo of zebra with the sunsetting behind.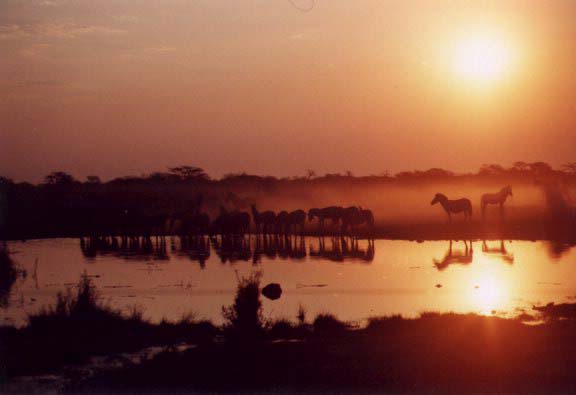 I then preceded up the tower to watch the sun set. Back to the truck for dinner and thence to the bar. This closed fairly early (9.30) but by the time we had finished our drinks it was 10.30. We decided to go back via the waterhole even though we expected nothing to be there. We arrived to find 3 elephants munching their way through the reeds which are in the waterhole. To get a better view I moved round the fence slightly but forgot about the stream/ditch flowing into the waterhole and got my feet wet. After a while 2 of the elephants got bored with eating and decided to have a playful fight instead. They were pushing each other around and wrestling with their trunks. However when the third one finished eating they all marched off together into the darkness and I went to bed.