Fridav 30 September
Swakopmund - Cape Cross - Bush Camp
A bit of a slow start this morning due to the lack of sleep and excess of alcohol on some people's part the previous night. Eventually we got loaded up and headed all of2 minutes drive into the town centre to do some shopping while Don went to fetch Derek from the hospital. I wandered around for a while waiting for the truck to return. We finally left Swakopmund at 11.00 and set off up the coast road for Cape Cross. It was cold again and therefore we had the sides of the truck down, not that there was very much to see anyway. Arrived at Cape Cross at about 2.00. The smell from the seals. Someone should teach these fur seals a lesson about personal hygiene. There were not so many seals as I had expected (a few hundred instead of 50,000).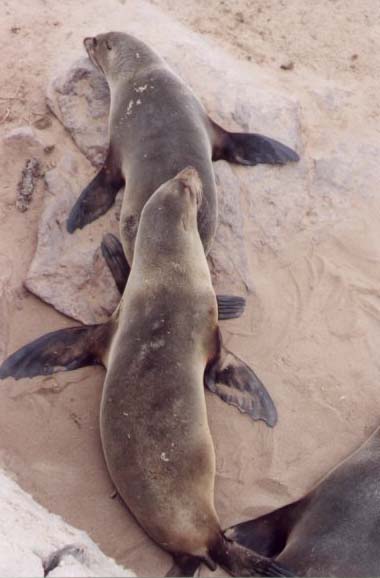 We did however see a mummy seal give birth to a baby seal. This was unexpected since they are not supposed to give birth until the end of November. I took some photos of the new seal with its placenta attached.
We then went to the gift shop which being next to the seal processing factory smelt even worse. I bought a seal-skin wallet. It is lucky that we weren't there a few hours later because the seals are culled at 4.00 on Friday afternoons.
Back into the truck for a short trip out of odour distance before lunch. In the afternoon (or what remained of it) we drove across the coastal plane until we stopped 30km SW of Uis for the night. This was on a gravel plane in the middle of nowhere. Had dinner and then toasted marshmallows (supplied by me) over the fire - a habit the Spaniards had never heard of before. Saw a couple of White Lady Of the Dunes spiders. These are massive ( about 6 inches across), white and have hairy legs. They are attracted to light and were obviously drawn to the fire. We chased the first one around the campsite while Carlos tried to take a photograph. Eventually someone killed it, which I think was a very cowardly act. However we left the second alone because the girlies had gone to bed by then.
The tent was pitched on top of a lot of stones but was not as uncomfortable as I had expected.
Saturday 1 October
Bush Camp - Khorixas - Outjo - Okaukuejo (Etosha)
Yet another 6.30 start to be off by 7.30. Initially it was quite cold again but soon warmed up. Drove via Khorixas and Outjo but did not stop because as the book says 'there is absolutely nothing to do or see' in either place.
Reached Okaukuejo, one of the 3 rest camps in Etosha National Park, at about 1.30 and then had lunch. These camps are pretty well designed with a waterhole immediately outside the fence, so the animals have no choice but to come and be seen. When we arrived the waterhole was full with zebra, springbok, oryx, and kudu.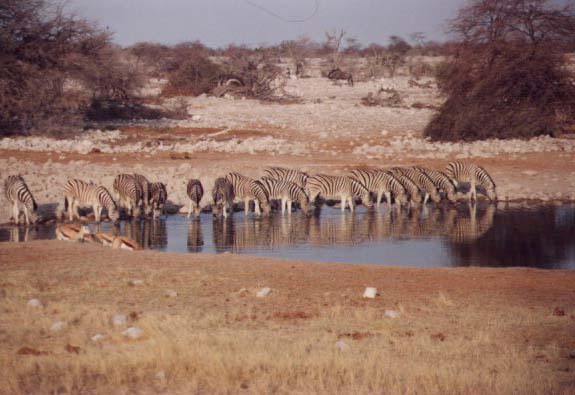 We spent the afternoon by the pool, in which the water was refreshing to say the least. Also had a game of beer bottle skittles but I didn't win. Returned to the waterhole at about 5.00 and the other animals were replaced by elephant and jackals.
Had dinner at 6.30 and then went back to the waterhole which was by now floodlit. Saw more elephant and some black rhinos. I took a photo at one point with a 10 second exposure so I hope that the elephant did not move.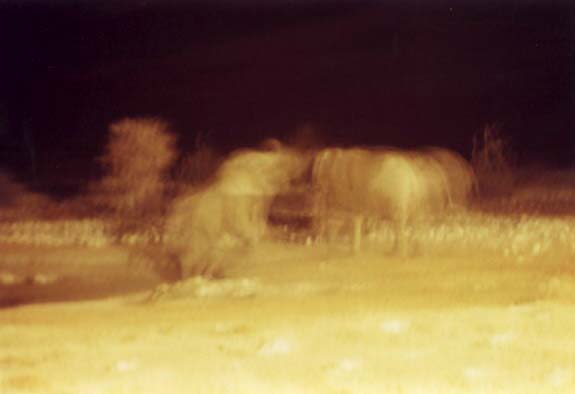 I got bored with watching the animals drink so retired to the bar. This however closed at 9.30 so I was forced to do some more game spotting. I went to bed at 10.30 since I was very tired. Others stayed up much later and rewarded by seeing giraffe and a hyena.