Tuesday 4 October
Namutoni - Tsumeb - Grootfontein - Rundu - Bush Camp
Up at 6.00 and left at 7.15 for the long drive towards Caprivi. Nearly ran over a giraffe which was playing around on the road. Drove past Tsumeb and arrived in Grootfontein at about 10.00. Went into the supermarket to stock with food. I found some very nice loud shirts there but decided that they weren't worth £20. Also found a 'strawberry flavour puffed rice' cereal but the cook refused to buy it. Went to the bakery and bought a cream doughnut which I then ate.
We left at 11.15 and got on the road for Rundu. This is long and very straight. Stopped for lunch about 1.00. Stopped again at a stall selling wood carvings and some suckers even bought some (I was not one of them). Reached Rundu and stopped to get some drinks and ice, The whole time that we were there a hoard (well 4 or 5) of kids were circling the truck saying 'Mister, hungry' which after a while got extremely irritating. After leaving Rundu we drove on for another 60km and then stopped for the night on an old service road used when the new road was being built. I was on cooking duty so had to peel the potatoes, carrots and onions.
Andy and I were told that we wouldn't be able to go microlighting at Vic Falls because it could only be arranged for Sunday, the day we are leaving. We decided to try and get a later flight out of Vie. Falls but don't know whether there is one. Pat tried to make some popcorn but failed, so Boz had to do it instead. Drank beer before going to bed.
Wednesday 5 October
Bush Camp - Popa Falls
Up slightly later because it is only 150km to Popa Falls. Arrived there shortly before lunch. Don and Boz tried to tell us that the small stream by the campsite was Popa Falls. Since the book said that they were not up to much we nearly believed them, but Carlos then told us that there was a big river 200m away with some slightly better falls on them. We had lunch, and afterwards I led a 7 person expedition to find the Okavango River. This did not take long and indeed there were at least some rapids. Some of us walked up the river some way but Derek claimed to have seen a crocodile (we think that it was probably a log) and went back. The rest of us failed to find either crocodiles or hippos but did see a local on the other river bank. Back at the camp it was time to investigate the mini-rapids. This involved sitting around in the water which was pretty warm.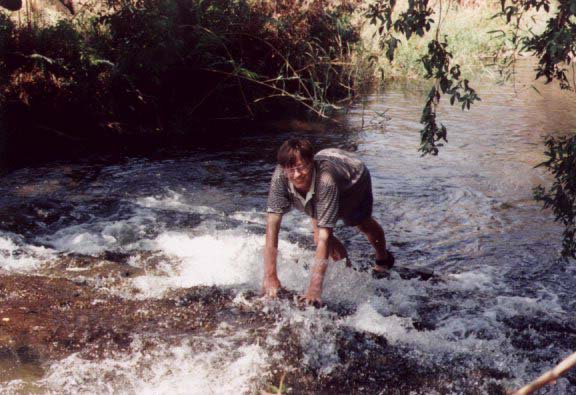 I paid a visit to the campsite shop to spend the last of my rand/Namibian dollars but failed to persuade the man to sell me his 'Namibian National Symbols' poster. He told me to write to the embassy or the Ministry of Information and Broadcasting. Sat around on the grass (a rarity in itself) reading a book until I found that the middle 141 pages were missing. Luckily I found them in the front compartment of the truck or I would have been very annoyed. Pat prepared our last evening meal (cooked by ourselves) of chicken salad, and all that I had to do as cook's help was to fetch it from the fridge. Unsurprisingly we drank beer before going to bed.
Thursday 6 October
Popa Falls - Caprivi Strip - Katima Mulilo - Namibia/Bots border - Bots/Zim border - Vic. Falls
The day of the long drive. Up at 5.30 (the earliest yet) when it was still dark and left by 7.00. Drove along the Caprivi strip, through a game reserve with no noticeable game to Katima Mulilo. Then headed South-East for the Botswanan border. Stopped shortly before the border for a quick lunch. Out last chance to have ham, tomato and beetroot sandwiches. We passed into Botswana without any difficulties. The drive through Botswana was on the transit route across Chobe National Park. This park contains 73000 elephants (according to the book) and we even saw some of them. Fairly soon we reached the Zimbabwe border and they also let us in. They didn't even search for the Zim dollars that we were smuggling in.
On the way to Vic. Falls I saw a large black bird with a red beak (a ground hornbill according to the men who know) and some sable antelope. Arrived at Vie. Falls about 5.15 the end of the journey, 6,500 km after the start. We were staying at the town campsite, therefore put up the tent for the last time before going to Explorers Bar. In between found that the toilet/shower block was one of the worst we had seen. I had a cold shower because the top of the hot tap was missing and the one on the cold tap did not come off.
Had a few beers in Explorers before going to Victoria Falls Hotel for a buffet dinner. This was quite nice although a few people got the shits the next day and blamed the chicken. Toni tried to translate some Spanish jokes into English and some of them were still funny. I told them some of my jokes and they laughed. After dinner it was back to Explorers, viewing some frogs in the hotel pond on the way. Had some beers and also a Caloha and Vodka which Kate bought me. This was quite nice until the last bit which tasted too much like coffee for my liking. It was then onto bed.
Friday 7 October
Vic. Falls- Zambia- Vic. Falls
For some reason I got up early today. Habit I suppose. Andy was also awake so we went to find some breakfast down the local Wimpey. Looked in some shops and I bought Sharon a nice T- shirt. Went back to the truck to remove out valuables from the safe before the key disappeared for the day. Visited the Air Zimbabwe office to check if there were any later flights on Sunday - there weren't. Walked down to the falls themselves and wandered around there for a while (it costs 2$20 to get in by the way). Only the western end of the falls had any water flowing over it, so it was not quite so spectacular as in the wet season. But then in the wet season there is so much spray that you can't see anything. I took lots of photographs.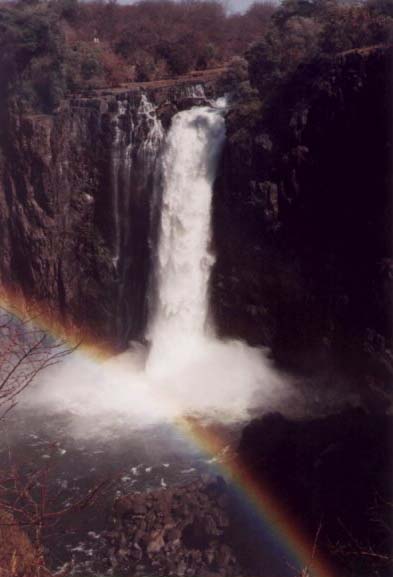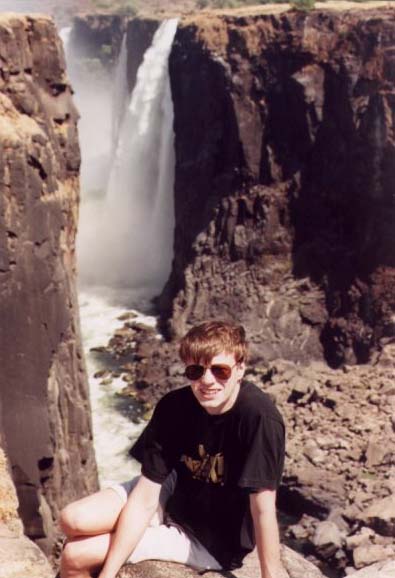 Decided to try to go Zambia but didn't know how many dollars you were allowed to take out of Zimbabwe. This turned out to be Z$500 so we left Zimbabwe and walked across Vic. Falls road/rail bridge to Zambia, our 4th country in 24 hours. Went to the curio market to check prices before changing any money but found that they were more interested in dollars (US or Zim) than the Zambian Kwacha (or whatever it is). The market itself was a very intense experience. The whole time that you are in there you are bombarded by the sellers. There is no such thing as browsing here. Expressing any interest at all in something seemed to mean to them that you definitely wanted to but it. Even while negotiating with one man his neighbours would try to persuade you to buy their wares instead. The prices were not particularly low (or at least the ones I paid weren't) but the quality is supposed to be the best in Africa. I succeeded in buying a medium sized hippo and rhino (20USD) a small hippo, rhino and pair of elephants (100ZD) and a pair of rhino bookends (1SUSD including a free elephant). Between each purchase I had to go out of the shed for a bit of a rest. Andy bought even more similar stuff, but also acquired a mask which is shit.
We then went for a walk down the 'knife edge' over a bridge to see the falls from the Zambian side. The view here is in some ways better but the lack of water meant that it looked more like a gorge than a waterfall.
Walked back to Zimbabwe with most of the purchases in my rucsac and it seemed a very long way(it is about 2km). We had done Zambia in 2 hours. Changed some money which for some reason seems to involve visiting 2 counters and waiting a long time and dropped the stuff off at the tent. Went to Explorers for lunch where we met some of the others. I had a 'Bungee Roll' which contained bacon, lettuce and tomato.
After lunch we tackled the Zimbabwe souvenir sellers. This time I succeeded in buying a stone elephant for Z$85 (the original price was Z$175 but that doesn't mean a great deal). Andy bought 2 larger stone pieces but they are pretty disgusting. Went back to the tents and showed off our purchases to everyone else. We were congratulated on being the top shoppers of the day. Went to buy myself a T-Shirt and also picked up a NyaminNyami, a necklace which is supposed to bring good luck when rafting.
At 3.45 it was time for the booze cruise. Got in a truck which took us to the Zambezi campsite where we bearded a pontoon boat with 2 levels. On the way Melissa told me that she had seen a cuddly giraffe in a shop in Vie. Falls.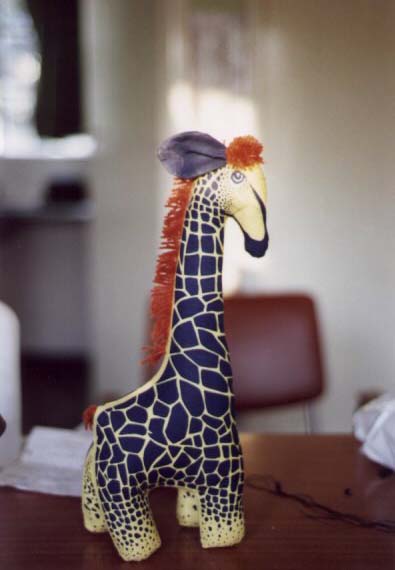 Since I had no shopping time left I commissioned her to buy me one tomorrow. I took up a position conveniently close to the bar. The drinks are included in the cost of the cruise so you must drink as much as possible. Drank some beer and saw some wildlife - notably elephants swimming/walking across the river between two islands. I let Kate loose with my camera out of my sight at one point so god knows what photos were taken. Returned to the launch site and then drove back into town. I went straight to Explorers unlike some of the others who wiped out and wanted to eat first. I had a ploughmans platter in the bar instead. Drank some beer and then went to bed.
Saturday 8 October
Vic. Falls
Up at 7.00 for the big day's rafting down the mighty Zambezi. Collected together the brave souls who wanted to do it (Tim, Kate, Brian, Toni, Geraldine, Derek, Andy and myself) and walked down to the Makissa Sun. Had 'breakfast' which consisted of a drink and a piece of shortbread, paid our money (£64 each) and had the introductory talk from the Shearwater guys. In total there were about 60 people with this company, and also 3 other companies so a lot of people must go rafting. The highlight of the talk was the reading out of a disclaimer which basically said if you get hurt, hard luck, if you die, hard luck. Walked to the top of the gorge where we had a safety talk (if you fall in, don't panic) and split into rafts. Us 6 blokes went for a paddling raft which is harder work and also requires a bit more skill but is supposed to be more fun. We were joined by a South African couple. The girlies wimped out onto a raft with an oarsman where you hang on the whole time and fling yourself around the raft (known as highsiding) to steer it. Our guide was called Steve. We collected our life jackets, helmets and paddles and walked to the bottom of the gorge. This isn't an easy thing in itself being steep and slippery. Then got into the raft for a bit of practice. T was at the front right which I now believe is one of the wetter positions.
When we had passed the test we headed down to the first rapid (Morning Glory). As we hit the first wave, Steve called 'Get Down' (which really means hang on) but I missed the rope and was swept backwards by the wave. What happened next is open to debate. I certainly went back into Tim (who was directly behind) but then either fell out of the right hand side of the boat or (this is the more exciting version) went over to the left hand side of the raft, knocked Toni out and then fell in over the left hand side. Certainly at the end of it we were both in the water but there was no video of this rapid to discover the truth. At first I didn't realize that I was underwater but the light green colour and water, instead of air, flowing into my mouth gave it away. I did as we had been told and just stayed relaxed as I was swept down the river and after a few seconds I popped up and grabbed hold of one of the safety kayaks who paddled me back to the raft (I got down the rapid quicker than the raft did). We reclaimed Toni who had been rescued by another raft and continued down the river. Rapid number 5 (actually our 2nd one) is known as Stairway to Heaven and is one of the toughest of the day. I was determined to hang on this time and did. Andy, on the other hand, wanted to join in the fun and did a backwards somersault over the side and was for a time underneath the boat. When he resurfaced we brought him back onboard ourselves.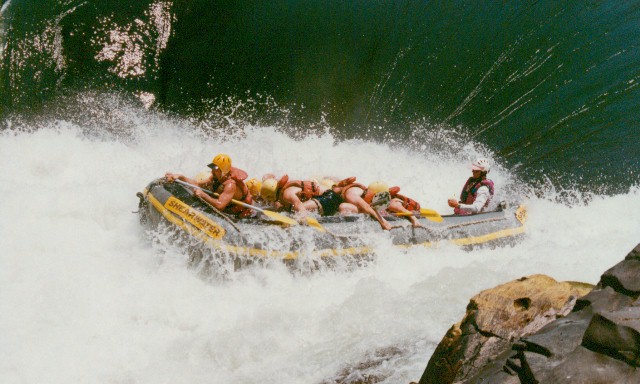 Thus onto number 6, where Toni again managed to fall in even though it is a fairly easy rapid. We also rescued him ourselves.
After that exciting start we managed very well and reached the lunch point without any more duckings. Had lunch and then had to start again. In the afternoon there were longer stretches of paddling between the rapids and I sometimes felt that I should have been in one of the other rafts. Eventually we reached number 18 (Oblivion) where the majority of rafts get flipped (tipped upside down, dumping all people on board in the river). We were first to go down and paddled hard through the first two waves and then hit the third and made it through. We only lost one person from the raft (a South African and so of little importance). According to the guide we had spun on top of the wave which is a good thing and obviously what we had planned. We rescued the SA girl and then waited to watch and rescue. On the next raft a few fell out, but there was no flip. We had to paddle over to rescue one of the swimmers. Of the remaining rafts some flipped spectacularly including the one containing Geraldine and Kate. As true gentlemen we went to rescue them as well. By this time our raft was rather full and seemed to be half-full of water at the front. We redistributed our excess passengers and then proceeded to No 19 (our last rapid) which was easy after what had gone before.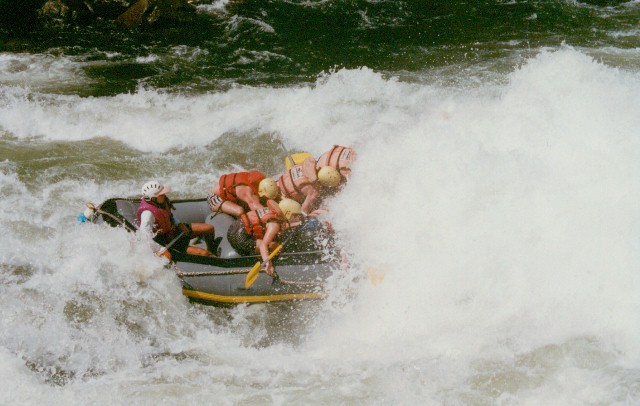 The only bad bit now, was the climb back up out of the gorge. This is 250m high at this point. During the climb I stubbed my little toe and it hurt. At the top, some beer, our clothes and a bus awaited us. The bus took us back to Vie. Falls and we then returned to the campsite. We were supposed to move into chalets for the last 2 nights (last night for Andy and me) but had some difficulty in locating a key. This was eventually found and we moved in. I went up to Shearwater office to buy my 'I've rafted the Zambezi' T-Shirt. Returned to the chalet and started doing my packing after getting the giraffe off Melissa. There was a lot more stuff going back than came.
At 7.00 we headed down to the Ilaha Lodge where the video of the day's rafting was being shown. My swim was not filmed but Andy's was. Also looked at the photos of the day, but our raft's were fairly dull compared with the others so I didn't but any. Eventually we moved on to dinner (also at Ilaha Lodge). However by this time I wasn't feeling very well. The effect, I believe, of the water I had swallowed earlier on the day. Therefore I didn't eat a great deal. I had promised Kate that I would go down the night club on my last night so did so but unfortunately still didn't feel good so left quite quickly having said goodbye to those I wouldn't see in the morning.
Sundav/Mondav 9/10 October
Vic. Falls- Harare- Jo'burg- Zurich- Heathrow- Reading- Ash
I was woken up about 6.15 by Tim going out to do his microlight flight over the falls (something we missed). We then got up and finished the packing, during which I broke my Nyaminnyami and were ready to go by about 7.00. I went to wake Kate and Geraldine up since they had said that they wanted say goodbye. Therefore we said bye to every one who was around and went to catch the bus to the airport along with Carlos and Jose who were also leaving today. When we got to the bus stop a taxi driver offered to take us the 20km for the same price as the bus so we accepted.
Arrived at the airport shortly before 8.00 and met the husband of a woman who had broken her leg rafting on Friday. We had heard rumours of an accident but not how it had happened. It sounded like a bit of a freak accident since her leg got trapped between the raft and superstructure which the oarsman sits on, the raft had flexed and her leg had snapped. The helicopter rescue was supposed to have been quite good however.
Boarded the 8.45 flight to Harare and found that the in-flight magazine could nearly be described as interesting.
You don't get to fly over the falls though. Arrived at Harare at about 10.00, left our bags in the Left Luggage Office and caught the bus into town. We had discovered at the start of the trip that Harare is not a happening place on a Sunday but it appeared better than 6 hours at the airport.
Walked up towards the open-air theatre because there was supposed to be a traditional music and dance festival going on there today, but it had not yet started. Therefore popped into the National Gallery to reconfirm how bad it was. It had actually improved slightly with a new exhibition but was still pretty dire. We had worked out by this point that we did not have much money left so wandered around looking for somewhere cheap to eat. We found a Wimpey restaurant which certainly fitted the bill. After lunch we returned to the park with the theatre and the festival by this time was about to start. We watched a number of groups some of which were better than others. Andy enjoyed it because he had the opportunity to take some photos of black woman with their tits out. We tired of the dancing after a while and started the walk back to the Air Zim office from where the bus left.
We got the 3.30 bus back to the airport, paid out US$20 departure tax, checked our baggage in and went airside. I bought Dad a bottle of Zimbabwean Gin in the duty free shop. We spent our last Zim. dollars on some drinks and hoped that the Spaniards would turn up to buy us another on. They didn't so we used some American money instead. Eventually Jose and Carlos arrived, they had spent the whole day at the airport. They also told us that they avoided paying the departure tax because they had been to Zambia the previous day and told the official that they hadn't returned until 6.00 (you don't pay if you've been in the country less than 24 hours). They showed us some more crap which they had bought during the day and it was then time to board our plane.
The return flight again went via Jo'burg but at least this time someone got on. The entertainment was very similar to on the way out, except that I had at least heard of the film, Maverick. I had some difficulty getting to sleep, partly because of the seats and partly because of the bright light from the T.V. screen above my head. I did eventually get some sleep, but was woken up at 5.15 (or 4:15 European time) to be served breakfast. It wasn't even very nice
Arrived at Zurich sometime around 6.00 and had to quickly pop into the toilets to put some long trousers on. Tried to check in for our onward flight to Heathrow but seemed to be classed as a standby passenger. Looked around the duty free shops, Andy bought some chocolate. Then went to the departure gate and were finally given a seat on the aeroplane which was in the business class section. Bearded the plane, were presented with yesterday's paper and served a much nicer breakfast this time - or was it just at a better time. We were a little late taking off but landed in Heathrow on time. Cleared immigration, collected our baggage and also got passed customs.
Dad however was nowhere to be seen when we emerged from customs. Therefore I made a quick phone call to Mum who confirmed that he was coming. By this time he had turned up, claiming that we couldn't possibly be out yet because the plane had only just landed. Anyway he kindly drove us back to Reading, where I picked my car and drove to Andy's house at the end of the month long trip. When emptying my rucsac out I found some more Zim dollars so we could have had another drink at the airport