Sapa

September 21st

The tour to Sapa was also organized by Queen Café. An even earlier start (5:30) because it is a long 12 hour drive to Sapa. Most of the journey is nothing to write home about until reaching the town of Lao Cai on the Chinese border. Had a quick look at China and then started the climb up to Sapa. The valleys in this area are all terraced for rice production

Arrived in Sapa on time checked into the hotel (Flying Banana Guest House). This time I got to share with a Danish guy, Chris. Went out had some food and drink and were bothered by Hmong woman and girls selling souvenirs.

September 22nd

Guided treks are included in the tour price. Today's walk was a fairly short one (3 hours or so) to Cat Village. This is a Hmong village very close to Sapa itself. We got to look inside a Hmong house
Grinding flour by hand

A young Hmong boy
We continued down the waterfall
| | |
| --- | --- |
| | |
| Cat Waterfall | Trekking in Sapa |
After the waterfall we left the main tourist route to climb the other side of the valley and then back to the river which we had to cross on rather less stable bridge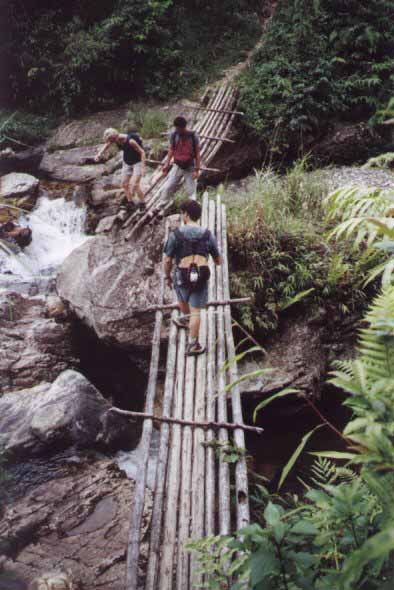 In the afternoon 4 or us went to the Ham Rong Tourist Area which is set in the hill above town which is topped with a radio tower. As well as good views of the area, it also contains interesting rock formations and some orchid gardens and is worth the entry fee (7000 Dong)
Me on top of one of the rocks

Chris on one of the rock towers

View of Ham Rong Tourist Area from one of the peaks
I had a nice meal of frogs legs tonight. Just like being in France.
23rd September
Another trek today, this time to Tarfin village. This is home to Hmong, Red Dxao and White Dxao (these are all minority tribes) and is a short bus ride from Sapa. The views were similar to the previous days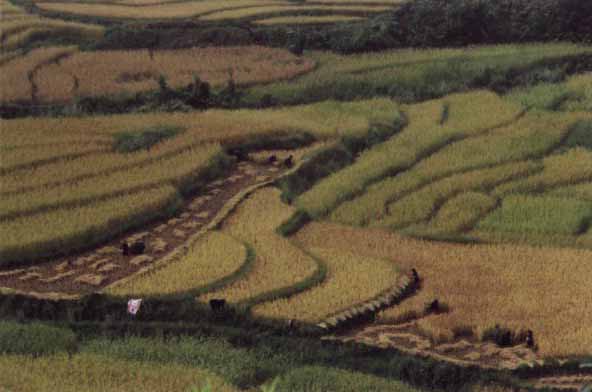 At some point I succeeded in buying a Hmong harp.
Saturday is the night of the love market in Sapa. However this mainly consists of westerners wandering around the market are looking for it. Anyway since I didn't have any buffalo I was unable to find a young lady.
24th September
An early start (6:00) to head back to Hanoi. The only highlight was the discovery that at the lunch stop on the way to Sapa (which we also used going back) I had probably had rat when I ordered 'fried rice with meat'. Oh well never mind it tasted fine.
Again Sapa is a place well worth visiting. I was a little disappointed in the treks in that they were both pretty short. It is very possible to get the train to Lao Cai (this avoids the 12 hour bus journey) and then bus up to Sapa and arrange your own treks from there, many of which overnight in the ethnic villages. Alternatively if you come on the economy tour with the Hanoi café, arrange to take at least one long day trek instead of going on the treks provide with the tour. Having said that the price of $28 is still a bargain since it costs more in transport if you travel by yourself.
The next trip was the start of the journey south to Hue
Home Page | South East Asia | Halong Bay | Hanoi | Hue