Hue

September 26th

Arrived in Hue shortly before lunch. The tourist buses always drop you off at a reasonable hotel and being lazy we decided to stay there (Hung Vuong, $8 for a double room). Benni and I went to walk to a restaurant and were immediately accosted by two cyclo drivers who proceeded to follow us as we walked along the street. Eventually we let them recommend somewhere to eat which was actually a quite good locals place. After lunch they returned and worked on us to go on a cyclo tour of the city. Since the sights are a little spread out we agreed. However somewhere along the line there was a misunderstanding over the price, we thought that we were paying 20000 dong for the tour but they thought that that was the price for an hour. This price would have been a bit cheap for the tour (which lasted 3 hours) and a bit expensive per hour (15000 Dong is a more reasonable rate). In any case it was quite a good tour.
Children playing on tank at war museum

A large flagpole

Entrance to Forbidden Purple City

Houseboats on the Dong Ba Canal, Hue

Trang Quang Pagoda. The monks here cut there little finger off once they commit to the temple life

The cyclo driver
Nice dinner tonight at Omar Khayams Indian Restaurant (they also have places in Hoi An and Nha Trang all of which are good)
September 27th
Went on the DMZ (Demilitarized Zone) tour today at a cost of $11. Overall I was a little disappointed. Most places do not look very much any more. A lot of time was spent looking at hillsides which were once an American base or where the Vietnamese once had guns. There is a small museum at the site of the Khe Sanh Airforce Base but it could be made a lot better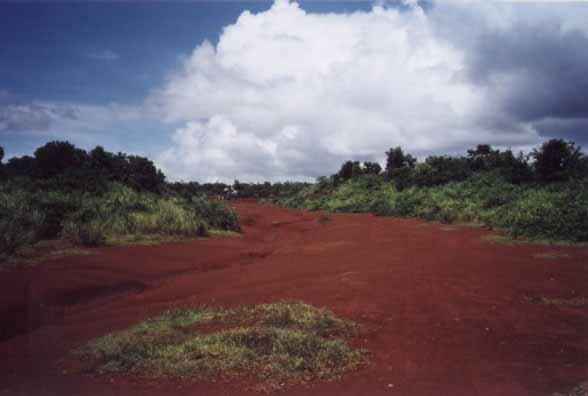 Site of Khe Sanh airforce base, now a patch of dirt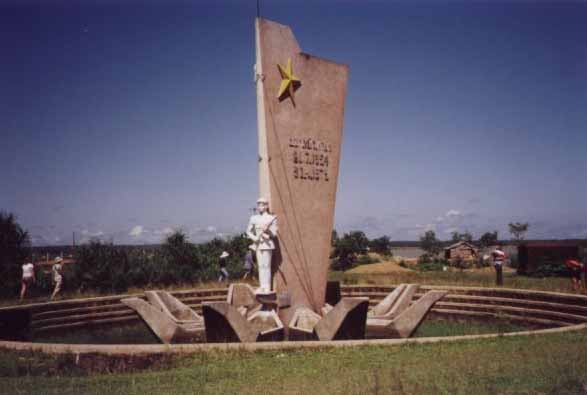 Memorial commemorating the partition (and presumably reunification) of Vietnam
In the afternoon we visited the Vinh Moc Tunnels where Vietnamese villagers lived underground during the war. Although these are the real thing - not reconstruction as an Cu Chi, I thought that the Cu Chi ones were better. Overall I don't think that the DMZ tour is worthwhile
September 29th
I was supposed to go on the Perfume River tour to see the Royal Tombs (cost $2) but it was raining so hard that I decided not to bother and to head for Hoi An instead. I later learnt that the tour ends up being quite expensive since you have to pay $5 to go into each of the Royal Tombs (there are 3 of them on the tour) plus a motorbike to get to some of them. In fact all of the sites in Hue are expensive to enter - the Forbidden Purple City also costs $5 to enter.
Anyway I was off to Hoi An on the Sinh Café bus. I bought a ticket to take me the rest of the way to Saigin (via Dalat) for $17 (I think). The bus to Hoi An stops at a number of tourist sites on the way but in the rain neither the stop at the beach nor for the view from the top of the pass were worthwhile. In Danang there is a chance to visit the Cham museum which boasts 'the worlds largest collection of Cham artifacts - don't know how many places are competing for that award though.
A Cham sculpture
Finally we stopped for lunch at Marble Mountain (which is in the same area as China Beach). Again on a nice day it would be a pleasant walk up the hill but in the rain we just stayed in the restaurant
| | |
| --- | --- |
| | Me with the pagoda at Marble mountain behind |
Home Page | South East Asia | Sapa | Hanoi | Hoi An