Monday 19 September
Okavango Delta - Island Safari Lodge
Got up for yet another early morning game walk, but only a two hour one this time. Saw the usual animals plus buffalo which frightened the guides a little since they are pretty dangerous beasties. During the walk one of the guides informed me that sometimes people show their thanks to him for showing them the animals by giving him some money or a T-shirt or something. I'm glad he pointed that one out.
On return ate a fried egg and took the tents down ready for our return to civilization. Loaded the mekoro up and prepared for the uncomfortable journey back. After 1 1/4 hours we reached the village where the trip had started. We gave Champion a massive 7 Pula tip. I bought some egg sweets in the 'village shop' which were not as bad as I had expected. Got into the speed boats for the exhilarating trip down the Bore. Then onto the 4WD vehicles for the journey back to Island Safari Lodge. Ate lunch and then sat around the pool writing postcards, reading and swimming occasionally. I managed to jump in the pool with some paper money in my pocket. Luckily it was Andy's. I also collected my washing, it was very nicely pressed, shame that it's going to be stuffed in my rucsac. Had dinner and then went down the bar. Played silly games such as Spoof, Fizz Buzz (neither of which were very successful) and bunnies (which was) for a while. Then started on Killer (a dart game) which I kept losing. Continued playing this until about 12.30 before going to bed. One thing about killer is that the worst darts player always seems to win, so that must have been my problem.
Tuesday 20 September
Island Safari Lodge - Maun - Kalahari Desert - Ghanzi - Bush Camp
Got up to watch Andy depart for his helicopter flight. Had some breakfast, for which I helped cook some eggs, and washed up. Left about 8.30 (after Andy and the others had returned from the helicopter) and went into Maun. I spent the remainder of my Pula and Thebe (meaning water and raindrop respectively) in the supermarket on crisps and jelly beans. We finally left Maun about 9.45 for the drive across the Kalahari desert. The road was straight and not particularly good. The desert was flat and not particularly inspiring, although at one point I'm sure that I saw a hill, or was that a mirage. Stopped for lunch and to collect firewood somewhere after the vet fence where all wood would have been confiscated and then drove through more similar scenery. Passed through Ghanzi (right turn , left turn and bear right) and continued heading for the Namibian border. Stopped for the night in the middle of nowhere. Saw a steenbok (or some other similar antelope) and a bush squirrel as we were pulling into the bush camp. Drank some beer and ate out meal (T-bone steaks) and then drank some more beer. The moon did not rise until much later than it had previously (presumably because we have travelled south) and we were a little worried that it might have blown up. On returning from a visit to the toilet I failed to avoid the bush directly behind my seat and got a nasty scratch on my thigh (all say ahh)
Wednesday 21 September
Bush Camp - Bots/Namibian border - Gobabias - Windhoek
Up early, consumed breakfast, broke camp and headed for Namibia. Again no hassles crossing the border although there isn't a separate queue for EU nationals. Namibia had the better border post this time but they managed to stamp my passport upside down. Headed off for Gobabias giving one of the immigration/customs officers a lift, initially on an unmade road but then on a new tarmac road which is being built to the border. It's just a shame the Botswanans aren't building one to meet it on the other side.
Had lunch in Gobabias where Boz had promised us a hot-dog stall but this was noticeably absent. Most of the others changed some money but I didn't since I had brought some with me. Both Namibian dollars and South African Rand are valid in Namibia at the moment. Continued towards Windhoek passed the international airport which is 42km out of town in case any one is thinking of visiting it. The scenery was more interesting by now with some hills. Reached Windhoek (the capital of Namibia for any ignoramuses reading this) at about 4.30 and went to Tucker's Tavern, a motel type place, which is our home for the next 2 nights. We even have beds here, the first since leaving Harare. Had a beer(draught) in the bar and then went for a meal at a nearby Italian restaurant (paid for out of the food kitty) before coming back and drinking some more beer. At some point in the evening Don tried to reduce the number of passengers by ramming Justine into a wall, but it didn't work and all she had to show for it was some nicely positioned bruises.
Thursday 22 September
Windhoek
Got up about 8.30 and went for breakfast. Discovered that Reading had beaten Sheffield Utd 1-0 last Saturday but had lost to Swindon over a week ago. Went off for a walk around Windhoek, which is a very European city, with Tim and Andy. Went to the top of the Kalahari Sands Hotel for a view of the city before coming back down and looking in the shops for a while. Then started on the Lonely Planet guide's walking tour to see the turn of the century German colonial architecture which Windhoek is 'famous' for. Went to the Alte Feste (old fort) where there was a display about Namibian independence which was quite interesting. I now know that I was not entitled to vote in the Independence elections because I did not live in Namibia, and neither I nor my parents were born there. Went past the Tinten Palace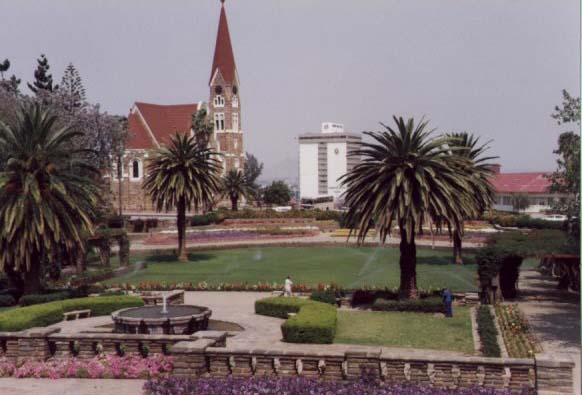 and then to the Post Strasse area for a drink. The Post Strasse Mall is a modern 'Art deco' shopping complex. We wandered around the malls for a while before stopping for lunch.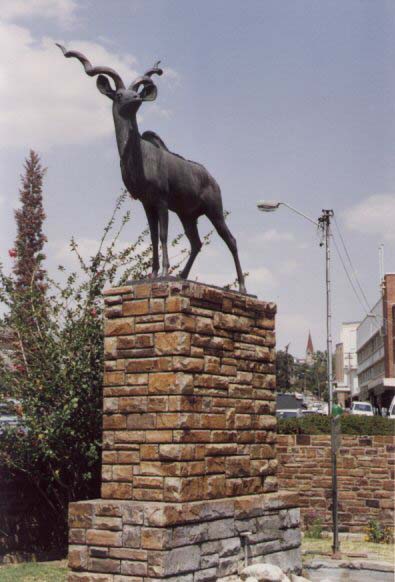 I had an ostrich steak which was good. Ostrich is a red meat a bit like beef but with the texture of chicken. After lunch we decided to walk to the lookout for yet another view of the city. On the way we popped into the National Gallery of Namibia and was very suprised to find that it actually had some good modern art in it. For 200 pounds I could have bought quite a nice painting in bright vivid colours, but getting it home would have been a bit of a problem. Continued up to the Look out and looked out. Then came back down via the Turnhalle, the scene of the initial talks which led to independence, and then onto the station. The next train to South Africa is next Wednesday so it's lucky that we didn't want to catch it. Tried to find a Dance festival which was supposed to be going on at the university but failed, so returned to Post Strasse for a bit more window shopping. I picked up a nice map of Namibia in the tourist office and bought some postcards. Andy and I sat in a local park for a while where some local tried to persuade me to change 10 Namibian dollars for 10 USD (the exchange rate is 1 USD = 3ND) but was rebuffed.
Returned to the hotel, read International Express and Newsweek and looked at the photos that Derek and Tim had had developed. Derek's were classic 'There's any animal out there somewhere' shots. Had a shower and then to the bar for a pre-dinner drink. Dinner tonight was at the Grand Junction Spur and the menu could have come straight from T.G.I. Fridays. I had Nachas and Steak Fajitas, but the quality was a bit below what you'd expect in England. After dinner we had drink in the Kalahari Sands having actually passed the 'smart casual' dress code which seems to apply all over Southern Africa. Then it was back to Tuckers Tavern for a quick game of pool (which Tim and I won) before bed.
Friday 23 September
Windhoek - Rehoboth - Tropic of Capricorn - Bush Camp
Got up, had breakfast and prepared to leave Windhoek. Finally left at 10.00, stopped for diesel on the outskirts of the city and then headed south on the B1. Crossed the Tropic of Capricorn (the 26th parallel, but what does that mean)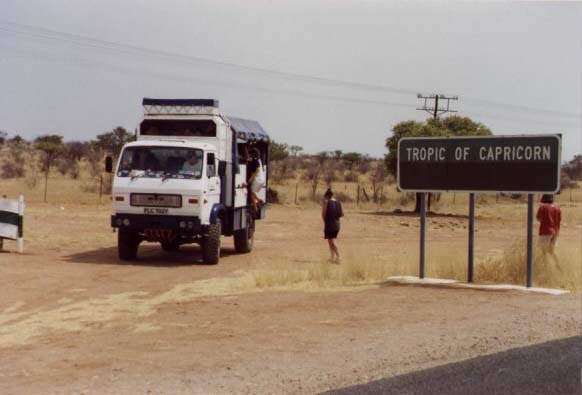 soon after passing through Rehoboth. Stopped here to take photographs to prove that we had indeed crossed. Stopped for lunch by an agricultural college in the middle of nowhere. As we were pulling in we saw a snake slithering out of the car park. It was probably a horned adder. After lunch we drove some more to our halt for the night, a bush camp 90km north of Keetmanshoop next to the railway line (in fact everywhere between Windhoek and Keetmanshoop is next to the railway line).
Had dinner and some drinks and looked at the stars. This was easier this time because Brian had bought a magazine which had a map of the night sky in it. The Australians tried to explain how to find south using the Southern Cross and in the end succeeded. Some goats were expressing an unhealthy interest in our camp so I tried to chase them off, but failed since they were still there the next morning. Don, Tim, and I fixed the stereo which had not worked for the last couple of days because some 'club footed bastard' had bent the fast forward/eject button. Went to bed at 9.30
Four trains passed through during the night, which must amount to nearly all the rail traffic in Namibia. One was at 1.15 which was particularly loud and woke me up.
Saturday 24 September
Bush Camp - Keetsmanhoop - Ai-Ais
Got up and had breakfast which included me cooking some toast. I did not burn any this time but did drop some into the fire. Left the campsite at about 7.30 and headed for Keetsmanhoop. It was extremely cold in the back of the truck this morning and everyone was huddled up in their warm clothes or sleeping bags, not what I had expected in Africa. We passed the turning to the Quiver Tree Forest but following Don's/Boz's advice decided not to visit it.
Stopped for a massive shopping trip in Keetsmanhoop since it is the last proper shop for some days. Kate and Geraldine bought a 1kg bag of puffed wheat things (big orange dongers) like Wotsits but with no taste. This was about 1 metre high I had some very nice Apfel Strudel which was a much better investment.
Continued drive south towards Fish River Canyon. Stopped for lunch soon after turning off the main road and for a change it was rice salad as well as ham salad sandwiches. Drove parallel with the canyon, which is the second biggest in the world according to the books to Ai-Ais. The last bit of the drive looked like a quarry but is actually natural.
Ai-Ais is a hot spring 'holiday' resort at the southern (bottom) end of the canyon. The campsite seemed more like a car park to me. There was however a large swimming pool filled with water from the spring and which was thus very hot - at least as hot as I normally have my bath water. We swam in the pool and played a water polo type game with no obvious rules for most of the afternoon.
I failed to put much into cooking dinner even though I was on duty since I didn't realize that they were cooking it (feeble excuse).
I went to the shop and bought some cold beers. Dinner tonight included pumpkin soup, which I had been expecting since the delta when the pumpkin had first made its appearance, and spaghetti bolagnese. After dinner we had a boys vs girls football match on the Ai-Ais floodlit soccer pitch (the area next to the toilet block). Despite much vicious play by the opponents, the blokes naturally won. The game ended when Justine caused Nuria to twist her ankle and the remainder of us retired to drink some beer. We then went for a late night swim and frolicked around in the pool until 11.00 when I went to bed. The tent was badly put up with 3 pegs not attached to the ground but luckily it did not fall down.