Thursday 15 September
Bulawayo - Plumtree - Zim/Bots border - Francistown - Nata - Bush Camp
Had breakfast and were ready to leave about 8.00am for the drive to Botswana having done this part of Zimbabwe. Stopped in Plumtree to hand in our empty bottles and then again outside to stash out Zim dollars since their import/export is restricted and we wanted to smuggle them out of the country. Passed through customs/immigration without any problems and noted that Botswana had a much better building.
Continued on to Francistown, Botswana's second biggest town, where we exchanged money at Barclays. They were very hi-tee here with a nice computer system but it still seemed to take a long time to process each transaction. I visited a book shop and bought guides to Southern Africa's mammals and birds of prey to help me. Lunch was at Kentucky Fried Chicken so all in all it was just like being at home (except that it was hot of course).
The afternoon drive was straight with the occasional bend to relieve the boredom. Saw an ostrich by the side of the road. After a number of hours reached Nata and looked at the airstrip but decided that they probably didn't need a new ATC system just yet. Stopped for the night at about 5.30 at a bush camp 40km after Nata. We were supposed to be meeting 2 other trucks here but neither had arrived yet. We made up some drink called Don Pedro which contains whisky, melted ice cream and chocolate and was actually quite nice. A second truck turned up after dark and had an English bloke on board who we couldn't decide whether he was a man or a woman to start with but did work out that he was a bit of a nerd. At least there is no one like that on our truck.
I helped to make up some beefburgers (since I was on cooking duty tonight) which completely fell to pieces when we tried to cook them and had to be remade. We had a damn good fire going tonight even if it did use up most of the wood that we had collected. Boz tried to introduce us to a great drinking game called Next whose only rule is that you must drink some revolting drink from Tanzania and then pass it to the next person. I was stupid enough to take part for one round. About midnight the third truck turned up but I soon decided that it was time for bed.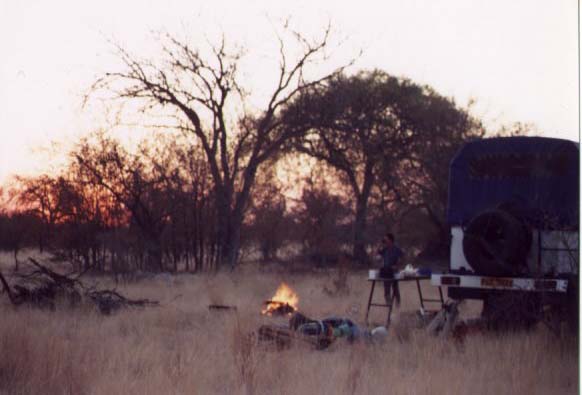 Friday 16 September
Bush Camp - Maun - Island Safari Lodge
Got up early (6.00) to watch Andy light the fire which the other two groups tried to monopolize. Some of the crew were a bit worse for wear especially Boz who certainly didn't appreciate being dragged out of his tent and around the campsite by one of the other drivers and so we were a little slow getting away. Tried to collect some more firewood but this was pretty unsuccessful because the saw was blunt and could not cut through the wood (either that or the wood was just too strong). Set off for Maun and had the immediate excitement of a bend, I believe that the next one was 50km later. Saw a hoard of vultures devouring an ostrich carcass. Some locals stopped to look at this as well and went up to inspect the carcass, possibly to check whether it was one of theirs. Later on we saw a live ostrich family.
Reached Maun around lunchtime and stopped in town to visit the mall and buy some food. I found the local branch of Price Waterhouse accountants but not a great deal else except an ice- cream shop where I bought an ice cream. Went out to Island Safari Lodge (our base for the next few days) where we had a barbecue lunch by the pool (at about 3.30). Spent the afternoon generally lazing around and swimming occasionally. I took some washing up to the reception because I'm just too lazy to contemplate doing it myself.
Went to the bar for sundowners at about 6.00 and I rapidly found out that it is hard to see at night with sunglasses on so I had to go back to change them. Had dinner at some point in the evening before returning to the bar for some more drinks (you get a choice of beer in Botswana, Castle, Ohlsons and Lion being the main brands) and then to bed at 11.30.
Saturday 17 September
Island Safari Lodge - Okavango Delta
Up just after sunrise because today was the day of my chopper flight over the Okavango delta. The helicopter turned up at 7.15 (15 minutes late) and Tim, Brian, Marine and I got on board. Somehow I managed to end up in the middle seat at the back which is not the best one. The doors of the helicopter have been removed so that you can hang out of it and hopefully take fantastic photographs, but we shall see. We saw plenty of animals including elephant, giraffe, hippo, many types of antelope and a water buffalo herd.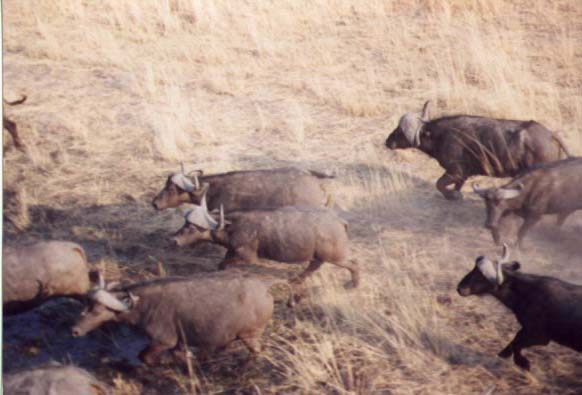 We were flying about 10 metres above the buffalo herd as they were trying to run away which was a pretty good sight. The flight was very good although expensive (£90 each).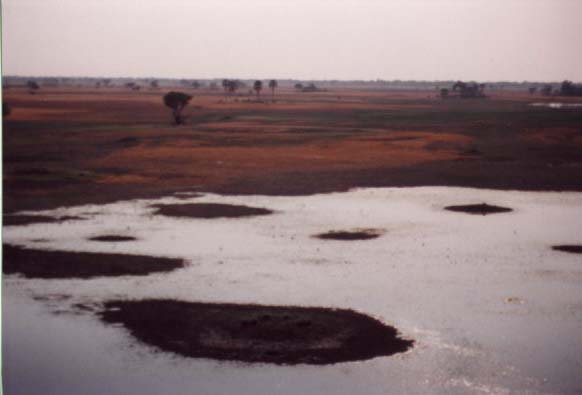 We returned to Island Safari for the 9.00 start to out boat trip into the delta. We went in a 4-WD vehicle to the vet fence and then in powerboats up the Bore river to a small village where we transferred to mekoro (small dugout canoes) for the remainder of the journey. There are two people in each mokoro and a poler to move you along. Andy and I had a poler called Champion, a young lad of about 12/13 and who was occasionally a bit wobbly. After 1 112 hours we reached out camp for the next two nights.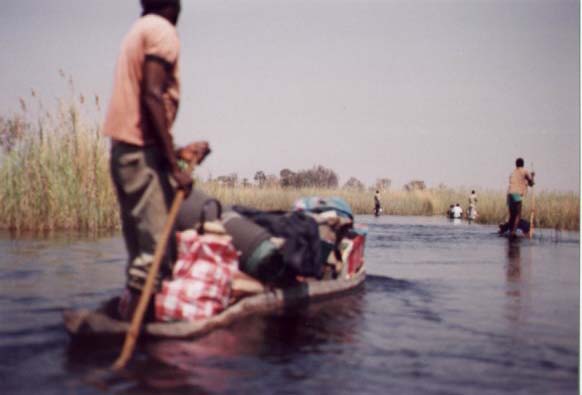 This was none too soon because the mokoro are not exactly comfortable, especially since ours was quite a short one. The camp was on an island called Tunoom (or something like that, the locals including a click sound in the name somewhere). I had failed to put any of my factor 20 suncream on my feet and they had gone a little pink, but at least they did so in a nice pattern because I was wearing my sandals. We put the tents up in a clearing about 10 metres back from the water, ate lunch and then settled down to the hard task of doing nothing for the afternoon. We sat by the river, occasionally going swimming which the local guides assured us was safe. The water is exceptionally clear in this part of the delta and can be drunk straight from the river since it is cleaned every 400 metres. Thus if you wanted a drink while you were swimming you just opened your mouth.
At 4.30 it was time for a game walk with two of the guides. We saw elephant, tsessbe, Kudo and two black dots in the distance which were supposed to be baboons but I have no idea whether they were or not. Returned just before sunset so watched the sun set and the ate dinner.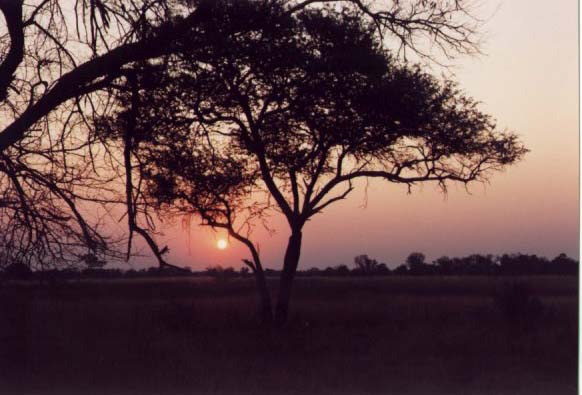 After dinner did a bit of astronomy and succeeded in seeing Venus (which looked crescent shaped), Saturn (with its rings) and Jupiter (including two moons) through a telescope which Carlos had brought along. We had decided that we wished to look at the planets but had no idea which 'stars' were Jupiter or Saturn (Venus is obvious) but I chose both of them out of the sky with no misses. We also looked at the moon seeing all the mountains and craters. Showed the moon to the guides through the telescope and I think that they were pretty impressed. Went to bed early (9.30) since there is not a lot to do out here. Did not have any alcohol the whole day since we did not bring any out into the delta with us.
Sunday 18 September
Okavango Delta
Up at 6.30 for a pre-breakfast game walk. We split into 2 groups one for a 3 hour walk, the other for a 4 hour one. I of course chose the longer walk since I'm hard. Saw plenty of elephant (including one with only one tusk), impala, tsessbe, zebra, wildebeest, giraffe, warthog and bush squirrel.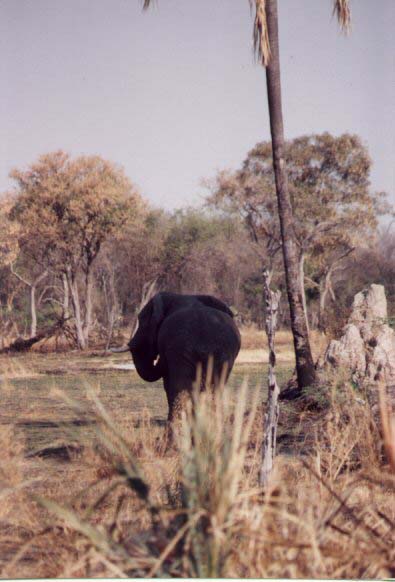 I also photographed some Reebok. We saw the devastation that elephant can wreak on the environment in an area where every single tree had been pushed over by them. We found a Kudu skull with horns which had been killed by lion in the last week or so. Arrived back shortly before 11.00 to find that the other group had much more excitement since they had been subject to an elephant charge. They however insisted that they were just scared. They had avoided the elephants by hiding behind an ant hill. The main problem with the game walks is that your legs get scratched to pieces and I had a particular bad scratch after this morning's walk so got out my antiseptic wipes to clean it.
Did not do much for the rest of the morning or the afternoon, just sat around down by the river and swam a bit. Played a game of catch with a half full water bottle which would probably have hurt had it hit you so I made sure that this did not happen. At 4.30 (on the dot, because the guides seem to refuse to move before that) we went for a mokoro ride up the river. This was quite pleasant and more comfortable without the luggage in the canoes. I did my David Bailey act at the turnaround point and took photos on nearly everyone's camera bar my own.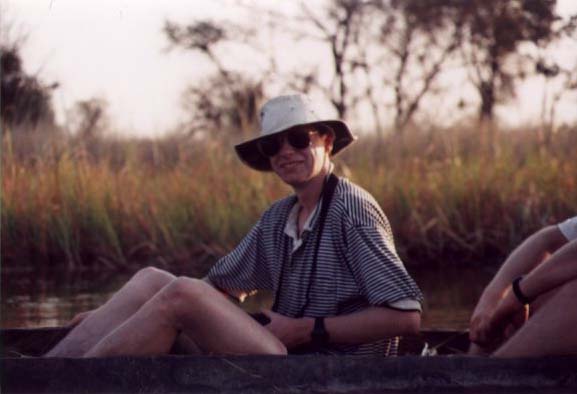 On return watched the sun set which was better than the previous night. We cooked dinner after I had struggled to use a penknife tin opener on a can of ham. At least I didn't cut my thumb open on it as Pat had managed to earlier on in the day. The locals diet seemed to consist of fish caught in the river, a maize based porridge type stuff and large amounts of sugar. Each guide brought one bag of flour and one of sugar for the two nights. Talked until about 10.00 and then went to bed. Another day with no beers.