This is the diary of my holiday to Southern Africa in 1994. I went on a trip organized by Kumuka Expeditions. There were 15 people on the trip, as well 3 members of staff, Boz the tour guide, Don the driver and Pat the cook, to ensure that we were always happy. I went with one friend (Andy) from England, but hadn't met any others before the trip. The other people on the trip were from England, Spain and Australia.
ZIMBABWE
BOTSWANA
NAMBIA
10th September 1994 - 10th October 1994
by Richard Hall
Saturday/Sunday 10/11 September
Farnborough-Reading-Heathrow-Zurich-Jo'burg-Harare
Went to pick Andy up from his house and then went on to Reading for lunch. Dad then very kindly drove us to Heathrow where we arrived over 2 hours before the flight (for future reference the required check-in time for Swiss-Air flights at Heathrow is 45 minutes). I bought a book from the book shop and we both got fairly bored moving from one waiting room to another until it was time for the flight. First leg of the journey was to Zurich. Arrived there and waited a bit longer before boarding the flight to Harare. Found out at this point that the flight was to take so long because it was going via Jo'burg, even though Jo'burg is 500 miles further south than Harare.
The flight was on an MD-11 with plenty of 'entertainment'. It was just a shame that none of it was any good. However when there was no film on the screens they showed a map of the plane's current location and performance statistics instead, which was much more interesting. I managed to sleep a little bit during the night but the seats and not exactly built for comfortable sleep. Landed in Jo'burg in the early morning where about 2 people got off just to emphasize the uselessness of this leg of the flight. Then it was off to Harare.
Got off the plane at about 9.30 and were pleasantly surprised to find that out luggage (last seen at Heathrow) had arrived in the right country. Cleared immigration without any problems by claiming to be staying at the Quality International Hotel in Harare for the whole time. An answer of 'camping' from Dutch people in front of us, meant that they had to produce their entire tour itinerary before being let in. Changed some money and got the bus in to town (Z$15 each, £1 Z$12), just in time for the end of the pre-departure meeting which were supposed to have attended at 10.00. Paid our kitty money to Boz (tour leader) and then went to check into the hotel. We were given a nice tour of the T.V. stations by the porter but it didn't take long to figure out that they were all crap. Went back downstairs to have a few beers with the other people on the tour.
Went out for a walk around Harare (not one of the world's top tourist destinations on a Sunday) and found ourselves hassled to buy souvenirs the whole time. Toured the National Art Gallery and weren't very impressed, although there was a photography exhibition which described each photo in the lot of arty nonsense terms which I think that I will use for my photo album.
Walked up the Kopje for a view over the city and were by this time getting a bit hot. Returned to the hotel meeting a couple of the Spaniards from the tour on the way. They had arranged to go out to dinner with some of the others that night so we agreed to join them.
Met up in the bar at about 6.00 had a drink and then a group of 9 of us went to the Carvery restaurant for dinner. The main menu there was a carvery (surprise, surprise) and was actually quite nice. Returned to the hotel where they refused to serve us a drink in the bar and then went to sleep after watching a little bit of CNN.
Monday 12 September
Harare-Masvingo-Great Zimbabwe Ruins
Got up and had a full English breakfast in the hotel restaurant just in case it was the last decent food I got in a month. The tour was supposed to depart at 10.00 but it didn't because we had to wait for a Spanish couple, who had decided to come at the last minute, to buy airline tickets to get back from Vie. Falls to Harare. Eventually got the truck packed up and left about 11.00. Drove to the outskirts of Harare where we stopped to buy some bread and meat and also seemed a visit a large number of garages without buying anything. I could not work out what this was for. Then got on the road to Masvingo and started to drive. Stopped for some lunch of ham, tomato and beetroot sandwiches, a diet we would become used to over the next 4 weeks. After lunch continued the drive south. We stopped in Masvingo for a short time where we were again hassled to buy souvenirs (a Zimbabwe bird this time) and then went onto the campsite at the foot of the Great Zimbabwe ruins. The group of Dutch people who had been on the flight over with us were already there. In fact they followed us around for most of the first week.
I agreed to share a tent with Andy (because I'm nice like that) so we put the tent up before having a talk from Boz about the ruins and also the tour in general. He claimed that there are 1,000,000 stones in the ruins (I have since read elsewhere that there are only 900,000 !). Drank some beer, ate some food ably prepared by Pat, the Scottish cook, drank some more beer and then went to bed
Tuesday 13 September
Great Zimbabwe Ruins - Chipengali - Bulawayo
An early rise, 6.00am (or at least at that stage I thought it was early, but it became very much the normal sort of getting up time), had some breakfast before paying a short visit to the ruins themselves. They consist of a number of parts on two hills and in the valley in between but are basically a collection of stones which represent the height of Shona civilization in the 14/15th centuries. First to be visited was the Great Enclosure with its famous large conical tower whose exact purpose has never been discovered. Then down to the valley enclosures where we declined an opportunity to visit a 'traditional' Shona village. This was followed by the walk up to the Hill complex, which was probably where the royalty lived, or perhaps it wasn't, no one is very sure. Saw some locals working up here but could not work out what they were actually doing.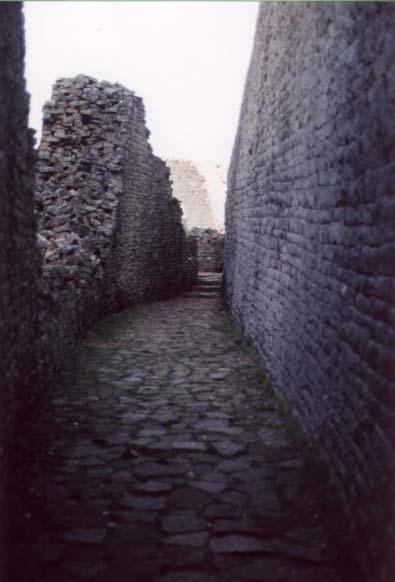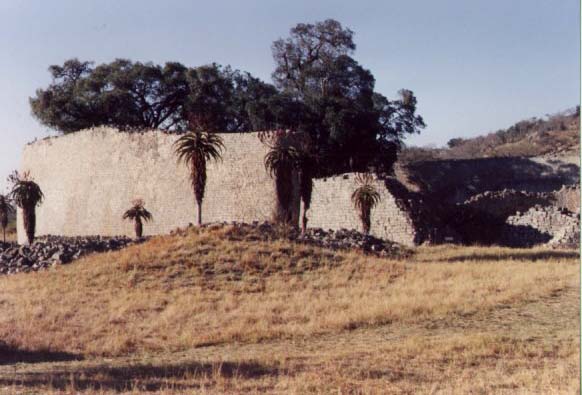 The reason that the 'city' were abandoned is not really known, but I think that they just got pissed off with the large numbers of Vervet Monkeys which are around the area and are constantly trying to nick your food.
Then it was back to the truck because 2 hours culture at a time is plenty for me. The truck was packed and we headed off to Bulawayo. Stopped for lunch (somewhere) during which it was very hot and some unlucky people had to cut a tree up for firewood. I was one of them even though it was not strictly my job.
Continued on to Chipengali Animal Orphanage/Refuge, where animals which could not survive in the wild (or in the case of the Leopards we won't allow to survive) are kept in what is basically a zoo. Saw both black and white rhino and took photos in case we don't see any in the wild.
Also watched the lions being fed. It was still hot.
Drove on into Bulawayo to the municipal campsite which is supposed to be one of the best in Africa and was actually quite good even having hot showers and a laundry (with woman to do the washing). Had dinner quickly since we had a 8.00 appointment with a bar. We were a little late so had to feed our leftover food to the taxi drivers while we finished getting ready. Then it was onto the Alabama Jazz club under the Bulawayo sun hotel where I drank some beer. At some later point in time I was persuaded that I wanted to go to a night club, the Silver Fox, which was a shame because it was a bit of dive and cost Z$15 to get in. Andy enjoyed however because he got felt up by a prostitute on the way to the toilet. I got a taxi back to the campsite at about 12.30 and Andy woke me coming back a little later.