Saigon And Area

October 7th

Yet another rainy day for a bus journey. I seem to have arranged most of the rain to occur while I am travelling which can't be bad. The journey to Saigon (or Ho Chi Minh City if you prefer, but I don't) took about 6 hours. Found a hotel without being hassled by too many touts (Diem Thuy, $6 for a double) and then just hanged out the tourist area. Met some people that I had been with up in Hanoi and arranged to go out with them later. Didn't do much else

October 8th

Benny and I went off a walk around town. Saw some nice buildings and got down to the waterfront.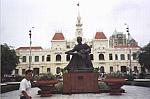 Hotel De Ville, Saigon
Then started to head back towards the backpacker area when it started to pour with rain. Therefore we got a little wet. Had lunch by which time it had stopped raining slightly so we headed off for the War Remnants museum (called the War Crimes Museum by many tourists). This is a very interesting musuem with sections concentrating on the atrocities committed by the Americans during the war, but also a display of very good photogarphs all of which were taken by journalists who died in the wars in Indo-China.
| | |
| --- | --- |
| | Prisoner in a French jail |
Met up with yet more people who we'd travelling through Vietnam with for beers tonight and tried all sorts of disgusting food from roadside sellers.
October 9th
Started the day by saying goodbye to Benny since he would have left Saigon by the time that I return from my trip to the Mekong Delta. I booked a trip to the delta through Sinh Café. I had booked on a 3 day tour but this was not running (because of too few people or too much water was unclear) so settled for a 2 day tour for $17. Got a bus to a flooded forest which had been a communist stronghold during the war. Went on a boat trip through the trees. I am not too sure that I would liked to have been a G.I. in these parts
| | |
| --- | --- |
| | |
| Typical Mekong Delta swamp | One of the buildings used by the freedom fighters |
Then returned to the bus to be taken to a larger boat for a trip down the Mekong
| | |
| --- | --- |
| | |
| Me on top of another boat on the Mekong | Alcohol Factory, possibly for the poisoning of the Vietnamese people |
By the time we arrived in Cantho our base for the night it was already dark. Had a nice meal tonight because I didn't choose the snake like a number of other people. Then discovered that there appeared to be no nightlife in Cantho which was surprising since it is one of the larger cities around.
October 10th
More boat trips today. Starting off with a trip for a floating market then onto vermicelli and rice factories.
| | |
| --- | --- |
| | |
| Vermicelli factory | Herding ducks |
We had a chance to taste 'exotic fruits' which turned out to pineapple and banana. Had lunch at a restaurant which had a pet python
On the way back stopped off at a fruit market where they did indeed have plenty of exotic fruits, some of which we got to try.
| | |
| --- | --- |
| | |
| Fruit Market | Me with the friendly snake |
Had a short visit to Mytho on the way back to see a 'bonsai garden' - very few bonsai but some sad looking monkeys in cages.
October 11th
I decided that today would be better spent visiting the Caodai temple and Cu Chi tunnels than getting a visa from the Cambodia embassy. Therefore employed Sinh café to get my visa (for a $5 charge) and booked the day trip to visit these places.
The Caodai temple belongs to a religion which has Victor Hugo, Dr Sun Yet San (a Chinese revolutionary) and a Vietnamese philosopher whose name I have forgotten as their primary saints. At one time it was a very powerful group in South Vietnam but is less so now. Anyway they have a nice looking temple where services are held daily at 12:00
| | |
| --- | --- |
| | |
| Caodai temple, main entrance | Pillar at Caodai temple |
After lunch it was off to the Cu Chi tunnels. These were used by Vietcong during the war and although they have been reconstructed they are very interesting. First you are shown a propaganda video made during the war and then get a chance to see some of the man traps used against the Americans. I had a go down a fox hole where presumably they hid out for days on end - I stayed in about 10 seconds
| | |
| --- | --- |
| | Me in foxhole |
Returned to Saigon to say goodbye to Vietnam and some of the friends that I had made on the way
Next day onto Cambodia